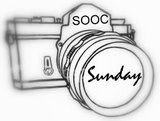 Hibiscus (called "gumamela" in the Philipppines)
This flower reminds me of my two-year stay in Hawaii as well as my childhood days in the Philippines. Hibiscus is very popular in the Hawaiian islands (yellow hibiscus is Hawaii's state flower). They are commonly used as hair adornment or garland. As a kid in the Philippines, my friends and I used to take the petals apart and stick the flower's sticky stigma on the tip of our noses.
I took a shot of this blooming hibiscus one Saturday morning on my visit to Mounts Botanical Garden at Palm Beach.